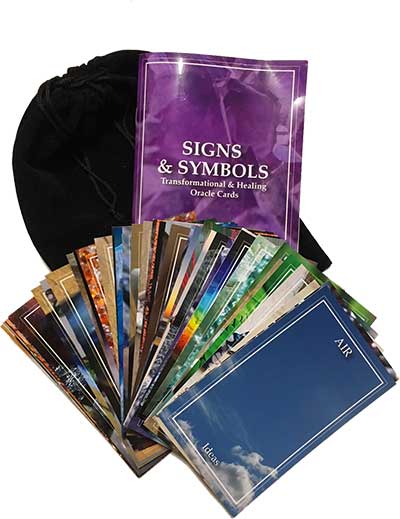 The cards Signs and Symbols were inspired by many years looking to nature for a connection with the universe. We see signs all the time: in dreams, in meditation or in person.
These signs are a clue to help us in our life, to encourage, heal and show direction.
Each day you start a new journey, start to look for clues and support. Signs and symbols are nothing new,  ancient cultures constantly looked to nature for inspiration.
The cards are broken up into four categories:
COLOURS, ANIMALS, ELEMENTS, and OTHER SIGNS.
You can simply choose a card a day for inspiration or use the more detailed layouts described in the booklet.
If you would like your own pack I have an opening special: 
$25 per pack which includes the 44 card deck, comprehensive booklet all together in a black velvet bag. Postage will be charged at standard Australia Post rates. Contact me directly to purchase Signs & Symbols.
If you have already purchased Signs & Symbols, I'd love to hear your feedback. What type of results are you getting from your readings? Some users have already commented on how 'eerily accurate' they find the cards. Leave a comment to share your own experiences.